Victor Davis Hanson [
Wiki
] is one of the clearest thinkers and writers of our time.
He has a contractual obligation to decline giving his endorsement for a candidate.
On Christmas night, at an hour in which most of us were enjoying a final nog, he penned (literary license)
an essay
regarding the presidential candidates.
The first paragraph:
What we are looking for?

A candidate who would not talk about reducing deficits, but promise instead surpluses to such a degree to buy down the national debt and so leave us less vulnerable to the Middle East, Chinese, Japanese, or European possession of trillions abroad; who would give someone some credit for taking out the two worse regimes in the Middle East and avoiding a reoccurrence of 9/11; who would state a simple principle that for every new spending initiative offered, a cut elsewhere or new tax increase would be promised to ensure no additional draw on the treasury; who would close the border to illegal immigration now, and explain that we can then bicker over other issues while the pool of illegal residents insidiously shrinks due to voluntary repatriation, intermarriage, deportations of criminals, and earned citizenship; who could craft some sort of bargain to drill oil offshore and in Alaska, build more refineries and nuclear power plants, and still toughen conservation standards and invest in alternate energy—and tell us exactly why and how and when we will be less dependent on foreign oil; and who could explain to us and the world abroad exactly how the US presence overseas leads to global peace and security, and do that both in daily impromptu and formal fashion.
(It's interesting to note that the doctor omits issues for many social conservatives--third rail items like Social Security, abortion, alternative families, etc. Given the passion of some single issues voters, I think Dr. Hanson left these for another day in order to focus on what all conservatives may agree on. Moreover, the issue of abortion and gay marriage should be returned to States' legislatures and SS can only be fixed by a willing Congress--issues that are not the primary purview of a president.)
He then goes on to analyze the various candidates by their statements and actions, Democrats first followed by Huckabee, Romney, Giuliani, McCain, and finally, Fred Thompson.
Methinks he's parsed his words most carefully regarding Thompson. Note the quasi-endorsement for VP:
Thompson. I never quite understood why the press charged someone 65/6, with non-Hodgkin's lymphoma in remission, as "lazy." He is not. The wonder is not that he is not as vigorous as Romney but that he is out on such a breakneck campaign at all. He seems the ideal Vice President candidate. That he could not meet the impossible pre-candidacy hype does not mean he won't bounce back and run a strong second or third in the primaries.
It's my fervent wish that Dr. Hanson
not
receive a call from the legal department at NRO.
Tom Tancredo dropped out of the race on 20 December and has thrown his support behind Romney. When the inevitable time arrives that Duncan Hunter resigns the race he will throw his considerable weight behind Romney or Thompson--I can't see him endorsing Huckabee, McCain or Giuliani. So a lot will depend on the outcomes of the first few primaries.
A lot of citizens of modest means may dig deep into their pockets to fund Thompson and there are a lot of Red State folks that simply can't back a Northeastern politician.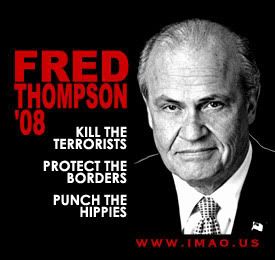 Of course, having the stones to tell our left leaning loudmouths to STFU doesn't hurt a bit.
Happy New Year to all!
UPDATE
Fausta's Blog
exposes MSM treachery and lazy
TM
ness.
Yeah! Let's toss the lazy
TM
moniker where it belongs. I can almost picture the devoted DemOp at CNN sifting the words, editing for
clarity
.
The MSM channels Mad Magazine on Fred, and Sunday's items

When I was a kid I loved Mad Magazine. One of my favorite features was how they used to truncate really bad reviews of movies and books to make them sound glorious. Well, Fred's getting the same treatment from the MSM, only in reverse.

CNN and USA Today are taking a few select words from Fred:

"I'm not particularly interested in running for president," the former senator said at a campaign event in Burlington when challenged by a voter over his desire to be commander-in-chief.

"But I think I'd make a good president," Thompson continued. "I have the background, capability, and concern to do this and I'm doing it for the right reasons."

Here's the full transcript of what Fred actually said, which his people posted at Fred file:
[THIS IS A BEST-EFFORT TRANSCRIPT OF THE SPECIFIC QUESTION AND ANSWER]

Q: My only problem with you and why I haven't thrown all my support behind you is that I don't know if you have the desire to be President. If I caucus for you next week, are you still going to be there two months from now?

...In the first place I got in the race about the time people normally get into it historically. The fact of the matter is that others started the process a lot earlier this time than they normally do. I think it was for some of them when they were juniors in high school.

APPLAUSE

That is a very good question, not because it's difficult to answer, because, but I'm gonna answer it in a little different way than what you might expect.

In the first place, I wouldn't be here if I didn't. I wouldn't be doing this if i didn't. I grew up very modest circumstances. I left government, I and my family have made sacrifices for me to be sitting here today. I haven't had any income for a long time because I'm doing this. I figure that to be clean you've got to cut everything off. And I was doing speaking engagements and I had a contract to do a tv show, I had a contract with abc radio like I was talking about earlier and so forth. I guess a man would have to be a total fool to do all those things and to be leaving his family which is not a joyful thing at all if he didn't want to do it.

But I am not consumed by personal ambition. I will not be devastated if I don't do it. I want the people to have the best president that they can have.

When this talk first started, it didn't originate with me. There were a lot of people around the country both directly and through polls, liked the idea of me stepping up. And of course, you always look better at a distance, I guess.

But most of those people are still there and think its a good idea. But I approached it from the standpoint of a deal. A kind of a marriage. If one side of a marriage has to be really talked into the marriage, it probably ain't going to be a very good deal for either one of them. But if you mutually think that this is a good thing. In this case, if you think this is a good thing for the country, then you have an opportunity to do some wonderful things together.

I'm offering myself up. I'm saying that I have the background, the capability, and the concern to do this and I'm doing it for the right reasons. But I'm not particularly interested in running for president, but I think I'd make a good president.

Nowadays, the process has become much more important than it used to be.

I don't know that they ever asked George Washington a question like this. I don't know that they ever asked Dwight D. Eisenhower a question like this. But nowadays, it's all about fire in the belly. I'm not sure in the world we live in today it's a terribly good thing if a president has too much fire in the belly. I approach life differently than a lot of people. People, I guess, wonder how I've been as successful as I've been in everything I've done. I won two races in TN by 20 point margins, a state that Bill Clinton carried twice. I'd never run for office before. I've never had an acting lesson and I guess that's obvious by people who've watched me. But when they made a movie about a case that I had when I took on a corrupt state administration as a lawyer and beat them before a jury. They made a movie about it and I wound up playing myself in the movie and yeah I can do that.

And when I did it, I did it. Wasn't just a lark. Anything that's worth doing is worth doing well. But I've always been a little bit more laid back than most. I like to say that I'm only consumed by very, very few things and politics is not one of them. The welfare of our country and our kids and grandkids is one of them.

If people really want in their president a super type-a personality, someone who has gotten up every morning and gone to bed every night and been thinking about for years how they could achieve the Presidency of the United States, someone who can look you straight in the eye and say they enjoy every minute of campaigning, I ain't that guy. So I hope I've discussed that and hope I haven't talked you out of anything. I honestly want - I can't imagine a worse set of circumstances than achieving the presidency under false pretenses. I go out of my way to be myself because I do't want anybody to think they are getting something they are not getting. I'm not consumed by this process I'm not consumed with the notion of being President. I'm simply saying I'm willing to do what's necessary to achieve it if I'm in sync with the people and if the people want me or somebody like me. I'll do what I've always done in the rest of my life and I will take it on and do a good job and you'll have the disadvantage of having someone who probably can't jump up and click their heels three times but will tell you the truth and you'll know where the President stands at all times.

Maybe once USA Today and CNN graduate from Mad Magazine Journalism School they'll start reporting on candidates who actually answer questions, instead of those who don't take any questions at all.

That is, if their reporters actually get to the venue where the words were spoken. As Fred noticed,

Incidentally, the audience in Burlington broke into applause in the middle of my answer. The reporter wouldn't know that because she wasn't even there.
Smarmy. Not just out of context but out of order and it's written to reinforce the lazy
TM
meme.
Now I want to pose a question and I sure would like your responses.
What would the state of our nation and world be if our MSM were not the victim of the Quiet Coup that filled its ranks with raving internationalist/socialists?
Would we still be at war? Would we have a Congress with ratings so low they aren't in the toilet--they've been flushed? Would Jesus be in our hearts and not performing day-labor landscaping?
I'd like to know what you think.