Uncle Jimbo over at
Black Five
has generously created a Holiday YouTube for our troops with the intent to share.
BLACKFIVE TV- CHRISTMAS THANKS TO THE TROOPS
POSTED BY UNCLE JIMBO

I've been overseas for Christmas before, although thankfully not in a war zone. We have quite a few of our troops in harm's way this holiday season and we wanted to let them know how much that means to us. So we asked some of our fellow bloggers to film a message thanking everyone who makes it possible for us to sit safe by the fire. God Bless everyone serving America anywhere.


I, too, have been overseas at this time of year (more accurately
at sea
) and I can tell you all that being away from loved ones, even in great company, is saddening.
This technology wasn't around in my seasons away
So if you're sending a Christmas wish to a troop you may want to include the URL. Just copy and paste this http://www.youtube.com/watch?v=q_HEEuipmYM in your email.
--------------------------------------------
Downtime fun
Last Friday I was recuperating from minor surgeries performed on the previous day. All that extra time and Christmas looming I found JibJab for the first time as a user.
This is the result.

This was generated from photos taken a couple years ago when the Turnettes could still smile for the camera

That was then; this is now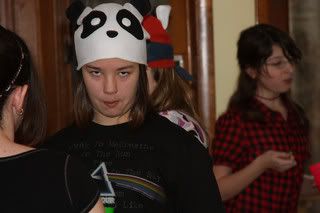 The Twin Tween Turnettes
TM
turn twelve today!
(Say fast three times)
HAPPY BIRTHDAY GIRLS
Hey! Show 'em some love.