Are these what have come to define my life?

No. Not just the attack of September 11, 2001.
November 22, 1963: It was two weeks to the day after my 9th birthday. The principal broke in on the 4th grade classroom's loudspeaker to announce an assembly--not in the auditorium/gymnasium but in the front courtyard. When the school had gathered with the flag overhead we were told that President Kennedy had been shot and later pronounced dead. The flag was lowered to half-staff and we had early dismissal. I walked the half-mile home in a childish state of bewilderment. Minutes later my sister, a senior in H.S., came home and burst into tears.
It was my first encounter with evil.
_____________________________________
I've been following the runup to this event for weeks mostly at Gates of Vienna but an Aussie Blogger beat even the Baron at posting the results.
Scary

Arrests at Brussels Islam protest

BRUSSELS, Belgium: Police arrested two leaders of a Belgian far-right party Tuesday for staging an illegal protest against the "Islamization of Europe," six years to the day after the terrorist attacks on New York and Washington.
Police scuffled with some of the 200 people who converged on two squares in the EU district of Brussels to protest against what they perceived as the rise of Islam as a significant political force across Europe. Officers handcuffed two leaders of the far-right Flemish Interest Party, which is very critical of Muslim immigrants, and took them away in police vans.
Protesters sought to use the Sept. 11 anniversary to point out that Islam threatens democracy and the rule of law in Europe.
The demonstration was initially planned by Stop Islamization of Europe, a loose alliance with roots in Germany, Britain and Denmark, which had predicted that 20,000 people would come to Brussels from all over Europe.
Brussels Mayor Freddy Thielemans banned the protest last month, calling SIOE an inflammatory group and its proposed demonstration a threat to public order. An appeals court upheld the ban Aug. 29.
Only 200 or so protesters showed up Tuesday for a protest lasting only 30 minutes. The demonstrators faced more than 100 police, backed up by water cannons and helicopters, who closed off streets around the EU headquarters.
[Hit the link for some very good photos]
This guy , Shiva,
gets it.
Following are his brief but eloquent closing remarks:
This is scary,

from a population of 490,426,060 only 200 or so protesters showed up Tuesday for a protest lasting only 30 minutes.
Yet a few weeks ago several hundred muslims showed up to protest about a few drawings in a Swedish town, that most people had never heard of before.
He's referring to the 'modoggie' art of Lars Vilks, a Swedish artist. There's a boatload of modoggie info at Gates of Vienna.
UPDATE with video from yesterday.

Still pix are followed by video
________________________________________________
The following 16 years saw me facing mostly the petty evils of childhood's transition to young adulthood. There were other assassinations--Dr. King followed by Robert Kennedy--and other far-away evils--the massacre at My Lai (all this in the first half of 1968, BTW) and the Munich Olympics massacre of 1972--but they were far-away events and meant little to me.
November 4, 1979: I was with Manny's band in a week long engagement at a supper club in Pennsylvania. I returned to my hotel room well-pleased after getting a fine deal on a pair of Nunn Bush dress loafers (PA has no sales tax on apparel) when I flipped on the TV to learn of the Embassy takeover.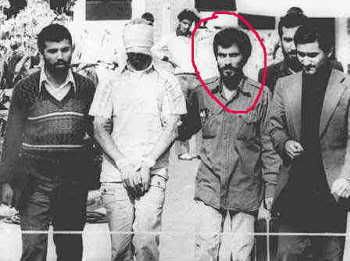 I was just days away from attaining the quarter-century mark when 'students' attacked and captured the US embassy in Tehran. By this time I had shed the teenage liberalism inspired by the antiwar movement and understood better what was at stake. This was an act of war and that peanut farmer better do something and quickly.
But no. As the US fell deeper into our
national malaise
one failed rescue attempt was mounted but it would take an election to end the 444 days of nightmare.
In hindsight I wonder if the stated hatred of Carter for giving safe haven to the Shah had less to do with the timing of the hostages' release--Inauguration Day, 1981--than some less-than-veiled threats of the incoming administration's intentions.
__________________________________________
I had to give the counter demonstration to September 9th's Muslim Day Parade a pass.
But the mighty Atlas
of Atlas Shrugs
fame
represents
for me and many, many others.
So I headed downtown on the #6 and who should jump on my train with a ton of signage? Joe Kaufman. How cool is that? Got to the staging area and the Islamazis were already set up across the street from us. If there is one thing that is obvious, it is the Islamazis are emboldened, empowered and "will not be stopped." There is a very palpable self confidence.
WARNING! Video is noisy and features (throat clearing sound)
spirited
singing.
Go Pamela!
________________________________________
My "antennae of evil" is now well lit.
The following years see the outrages that define the last 25 years. From the airplane hijack related execution of my fellow Marylander
Robert Stethem
to the cruise ship hijack and subsequent murder by
throwing overboard
in his frikkin wheelchair of
Leon Klinghoffer
. Near simultaneous bombings at airports in Vienna, Austria and Rome, Italy.
The first
Intifada
as I begin my international career. Four years on and the first World Trade Center attack takes place on Friday (Muslim 'sabbath'), February 26, 1993. I don't learn of it until my ship reaches port in San Juan and I open the local paper at a Hooters while waiting for my wings order.
__________________________________________
The next years feature the debacle in Mogadishu ('93), Bosnia ('93-'96), Khobar towers bombing ('96), embassy bombings in Dar es Salaam, Tanzania and Nairobi, Kenya ('98) and the USS Cole in October, 2000.
Moments after moments.

Moments upon moments
___________________________________________
September 11, 2001, is still more vivid to me than the births of my children.
How fucking sick is that?
I roused before 7 A.M. and fixed breakfast (oatmeal) for the turnettes and turnson. The Queen of Seoul dropped the twins at kindergartren on her way to work and I was alone with our son. It was an absolutely glorious, cloudless late-summer day in the northeast.
(I wasn't working. I mean that on multiple levels. For over a year my young and dynamic physician had tried a host of diagnostic tests to find the source of my exhaustion. He finally ordered a sleep test and I was found to be suffering from profound sleep apnea, a condition that renders a person unable to get decent sleep.
But it was too damn late and the Q of S had made her decision. I was a 'losing proposition'.
(
There was a significant uptick in the divorce rate following 9/11.
)
7:51 A.M. My morning radio show reports an airplane has struck the WTC. I turn on the TV.
(I remember that a rather large military plane flew into the Empire State building in fog during WWII.)
I call Q of S at work and tell her to get close to a TV.
A fraction of an hour later witness the 2nd plane hitting the north tower.
This is now intentional. This is now an assault--a deliberate attack.
I can't sit. I pace the living room glancing at the TV. Thankfully the turnson is preoccupied with his toys as I fret.
Then the Pentagon and reports of the downing of United Flight 93. (Initial reports were that we, US assets, shot down that plane at Shanksville. I don't doubt those initial reports nor do I blame my government for the action or the subsequent spin. This informed opinion in no way diminishes the incredible respect and regard I hold for the heroes on that flight.)
My eyes are leaking. They're not tears of sadness. They are tears of unrequited rage. I want to strip down, to don the blue woad and give my war cry. I desperately want to hit something but I have to be responsible for my not-quite-2 year old son.
Then come the images on TV that forever burn on the internal screen of my permanently scarred psyche. This evil, this
abomination
that could make my brothers and sisters
choose
to fall rather than be cremated alive.
Local radio reports that parents are picking kids up from schools. So I pack the turnson into his stroller and walk the half-mile to the turnettes' elementary in an adult state of contemplation on the nature and scope of evil.
Terror is fearing for your own life. Horror is the very human response to witnessing other people's terror.
Six years later I want to hit something. My eyes are still leaking tears of impotent rage. God, help me.
This turnpost was originally published at RR on 11 September 2007