Looking back at last year's 9.11 post I recognize there are some things very much missing that I don't wish to omit this year:
Gratitude. Gratitude to George W. Bush and the military and intelligence agencies that have protected me and mine.
Pride. Pride in the fact that we took body and head (and wallet) shots and we stood up and took the fight to them. Pride that our young are so willing to sacrifice.
I also want to include a special shout out to class-mates Ingrid and Janet whom I've recently reconnected with after so many years. They were there--with me--in the first of the moments described below.
The following is an edited and updated repost from a year ago titled
Moments
Are these what have come to define my life?

No. Not just the attack of September 11, 2001.
November 22, 1963: It was two weeks to the day after my 9th birthday. The principal broke in on Mr. DiPietro's 4th grade classroom loudspeaker to announce an assembly--not in the auditorium/gymnasium but in the front courtyard. When the school had gathered with the flag overhead we were told that President Kennedy had been shot and later pronounced dead. The flag was lowered to half-staff and we had early dismissal. I walked
the half-mile home in a childish state of bewilderment
. Minutes later my sister, a senior in H.S., came home and burst into tears.
It was my first encounter with evil.
_____________________________________
The following 16 years saw me facing mostly the petty evils of childhood's transition to young adulthood. There were other assassinations--Dr. King followed by Robert Kennedy--and other far-away evils--the massacre at My Lai (all this in the first half of 1968, BTW) and the Munich Olympics massacre of 1972--but they were far-away events.
November 4, 1979: I was with Manny's band in a week long engagement at a supper club in Pennsylvania. I returned to my hotel room well-pleased after getting a fine deal on a pair of Nunn Bush dress loafers (PA has no sales tax on apparel) when I flipped on the TV to learn of the Embassy takeover.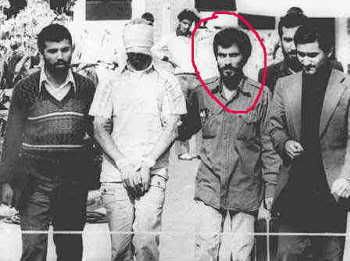 I was just days away from attaining the quarter-century mark when 'students' attacked and captured the US embassy in Tehran. By this time I had shed the teenage liberalism inspired by the antiwar movement and understood better what was at stake. This was an act of war and that peanut farmer better do something and quickly.
But no. As the US fell deeper into our
national malaise
one failed rescue attempt was mounted but it would take an election to end the 444 days of nightmare.
In hindsight I wonder if the stated hatred of Carter for giving safe haven to the Shah had less to do with the timing of the hostages' release--Inauguration Day, 1981--than some less-than-veiled threats of the incoming administration's intentions.
__________________________________________
My "antennae of evil" is now well lit.
The following years see the outrages that define the last 25 years. From the airplane hijack related execution of my fellow Marylander
Robert Stethem
to the cruise ship hijack and subsequent murder by
throwing overboard
in his frikkin wheelchair of
Leon Klinghoffer
. Near simultaneous bombings at airports in Vienna, Austria and Rome, Italy.
The first
Intifada
as I begin my international career. Four years on and the first World Trade Center attack takes place on Friday (Muslim 'sabbath'), February 26, 1993. I don't learn of it until my ship reaches port in San Juan and I open the local paper at a Hooters while waiting for my wings order.
__________________________________________
The next years feature the debacle in Mogadishu ('93), Bosnia ('93-'96), Khobar Towers bombing ('96), embassy bombings in Dar es Salaam, Tanzania and Nairobi, Kenya ('98) and the USS Cole in October, 2000.
Moments after moments.

Moments upon moments
___________________________________________
September 11, 2001, is still more vivid to me than the births of my children.
How fucking sick is that?
I roused before 7 A.M. and fixed breakfast (oatmeal) for the turnettes and turnson. The Queen of Seoul dropped the twins at kindergartren on her way to work and I was alone with our son. It was an absolutely glorious, cloudless late-summer day in the northeast.
8:51 A.M. My morning radio show reports an airplane has struck the WTC. I turn on the TV.
(I remember that a rather large military plane flew into the Empire State building in fog during WWII.)
I call Q of S at work and tell her to get close to a TV.
A fraction of an hour later witness the 2nd plane hitting the north tower.
This is now intentional. This is now an assault--a deliberate attack.
I can't sit. I pace the living room glancing at the TV. Thankfully the turnson is preoccupied with his toys as I fret.
Then the Pentagon and reports of the downing of United Flight 93. (Initial reports were that we, US assets, shot down that plane at Shanksville. I don't doubt those initial reports nor do I blame my government for the action or the subsequent spin. This informed opinion in no way diminishes the incredible respect and regard I hold for the heroes on that flight.)
My eyes are leaking. They're not tears of sadness. They are tears of unrequited rage. I want to strip down, to don the blue woad and give my war cry. I desperately want to hit something but I have to be responsible for my not-quite-2 year old son.
Then come the images on TV that forever burn on the internal screen of my permanently scarred psyche. This evil, this
abomination
that could make my brothers and sisters
choose
to fall rather than be cremated alive.
Local radio reports that parents are picking kids up from schools. So I pack the turnson into his stroller and walk
the half-mile to the turnettes' elementary in an adult state of contemplation on the nature and scope of evil
.
Terror is fearing for your own life. Horror is the very human response to witnessing other people's terror.
Six
Seven years later I want to hit something. My eyes are still leaking tears of impotent rage. God help me.